Flash-Back
Ernst Jakob Henne
Fédération Internationale de Motocyclisme (FIM)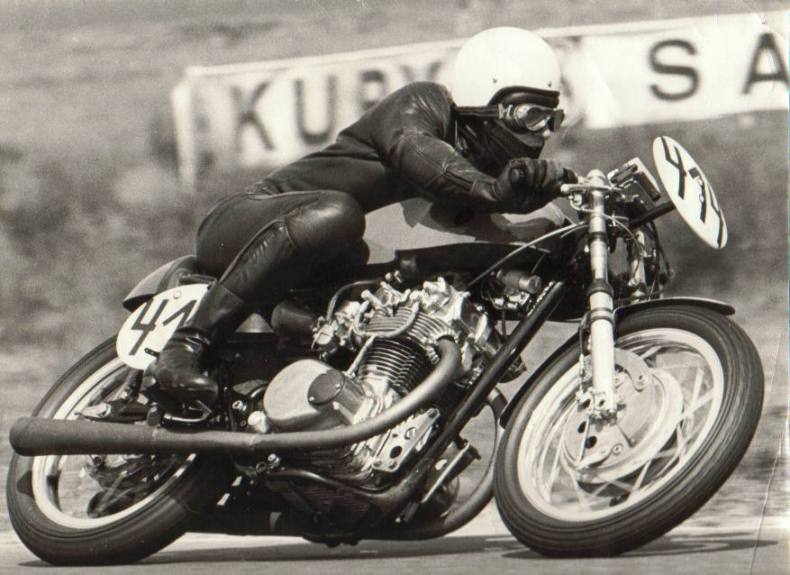 Founded in 1904, the Fédération Internationale de Motocyclisme (FIM) is an organization that provides an international voice for motorcycle enthusiasts. The FIM has headquarters in Geneva, Switzerland and seeks to protect the rights of motorcyclists and enrich the motorcycling community. Events ranging from scenic tours to international motocross and Grand Prix championships are organized and regulated by the FIM. They provide the administrative structure and technical regulations that define the many classes of competition.
Among many its other roles, the FIM functions as an independent judiciary that provides conflict arbitration and enforces racing regulations. All races that are sanctioned by the FIM have rigid procedural and technical mandates that are vigorously enforced. Riders are held to a high standard of sportsmanship and must pass stringent drug tests in order to compete. Racing machines must also pass in depth technical inspections, both pre- and post-race.
The Fédération Internationale de Motocyclisme (FIM) first organized a World Championship for motorcycle racing in 1949. There have traditionally been several races at each event for various classes of motorcycles based on engine size. Classes for 50 cc, 80 cc, 125 cc, 250 cc, 350 cc, and 500 cc single-seaters have existed over time, and 350 cc and 500 cc sidecars. Up through the 1950s and most of the 1960s, four-stroke engines dominated all classes. In the 1960s, two-stroke engines began to take root in the smaller classes. By the 1970s, two-strokes completely eclipsed the four-strokes. The 50 cc class was replaced by an 80 cc class, then the class was dropped entirely in the 1990s. The 350 cc class vanished in the 1980s. Sidecars were dropped from World Championship events in the 1990s, reducing the field to 125s, 250s, and 500s.
Grand Prix classifications
MotoGP, the premier class of GP motorcycle racing, has changed dramatically in recent years. From the mid-1970s until 2002 the top class of GP racing was restricted to four cylinders and 500 cc, regardless of whether the engine was a two-stroke or four-stroke. Consequently, all machines were two-strokes, due to the greater power output for a given engine capacity (produced up to 190 horsepower).
In 2002, rule changes permitted manufacturers to choose between running two-strokes engines (500 cc or less) or four-strokes (990 cc or less). The new four-stroke machinery proved to have too many advantages over their two-stroke rivals (up to 250 horsepower), and, as a result, by 2003 no two-stroke machines remained in the MotoGP field. The 125 cc and 250 cc classes still consist exclusively of two-stroke machines. For the 2007 season the capacity of the MotoGP machines has been reduced to 800cc in an attempt by the FIM to limit top speeds and improve safety. Early tests have shown that the 800cc machines do have a slightly slower top speed, but are capable of higher corner speeds than the larger 990cc machines were.
Two-stroke versus four-stroke
The 500cc bikes of the late 1990s and early 2000s were brutal machines. Light, agile, and extremely hard to ride. These machines were brilliant race bikes and made for very entertaining and competitive racing. The FIM, however, decided that a change was needed to improve the quality of the sport. Two-stroke technology had reached a plateau, and the FIM wanted to ensure that Grand Prix racing did not become stagnant.
To ensure that there was continual technological evolution, the FIM decided to rewrite the regulations for 2002 and allow 990cc four strokes to compete with the 500cc two strokes. The results were spectacular. The 990cc configuration was immediately competitive and the bikes looked and sounded like the sport bikes available to consumers on the showroom floor. By 2003 there were no 500cc two stroke bikes racing in the MotoGP championship.
The decision to alter the regulations for the 500cc class had a very positive effect for motorcyclists. The technologies that are developed for the four stroke race bikes directly apply to road going sport bikes. Current production bikes are easier to ride, have more power, handle better, have better brakes and better tires, and are evolving at an accelerated rate due to advances made in MotoGP racing.
Safety
Safety is an obvious issue when you have 15-20 motorcycles capable of over 200mph competing for the same three inches of race track. The FIM bases many of their technical regulations on concerns for rider and spectator safety. In the early days of Grand Prix racing, races were held on closed off streets or racetracks designed for car racing. Protective gear was similarly simple, consisting of leather pants, jacket, gloves, a pair of goggles and an open faced helmet. In those times, crashes were often fatal, and spectators were at risk of being hit by debris or even the occasional cart-wheeling race bike.
Today, the FIM closely inspects each track that wants to hold Grand Prix races and judges if the track meets the necessary guidelines for safety. Developing safe racetracks has been a long struggle for the motorcycle racing community. Race tracks designed for car racing often use reinforced concrete barriers to prevent an out of control vehicle from leaving the racetrack. This strategy protects spectators and allows them to get closer to the racing action, but is not suitable for motorcycle racers. Tracks must have large smooth runoff areas so that a fallen rider can slide to a stop without hitting any kind of barrier. The tracks that are FIM approved for Grand Prix use are all either designed with motorcycles in mind or have been substantially modified to improve safety for riders.
Despite the efforts of the FIM, accidents do happen in Grand Prix racing. In the first race of the 2003 MotoGP season a Japanese rider named Daijiro Kato slammed into a wall and was put into a coma. He died in the hospital two weeks later. The incident happened at Suzuka, an older Japanese track known for being brilliant and beautiful, although somewhat dangerous. The FIM no longer stages Grand Prix races at Suzuka for safety reasons.
Crashes
Motorcycle crashes are usually one of two types: lowsides and highsides. A lowside is when the motorcycle falls onto the side closest to the ground. Lowsides are mostly caused by the front tire losing grip, usually from cornering too sharply or using too much front brake. A highside is when a motorcycle flips in the opposite direction of the turn. Highsides occur from the back tire losing grip, starting to spin and slide, and then suddenly achieving grip which, in turn, catapults the rider off of the motorcycle into the air.
Protective gear
The protective gear worn by Grand Prix racers is highly specialized and very effective. Falls at 100mph are common and injuries are surprisingly uncommon and usually fairly minor. The suits that riders wear are made from kangaroo hide, a material that has proven to be highly abrasion resistant. The suits have strategically placed padding that helps to dissipate the force of a fall. The boots and gloves that riders wear are commonly reinforced with carbon fiber and designed to maximize freedom of movement while preventing joints from bending in the wrong ways. Above any other form of protection, riders depend on their helmets for survival. Helmets are commonly made from advanced composite materials and are extremely lightweight and strong.
A vivid illustration of the effectiveness of modern protective gear came at Mugello during the 2004 MotoGP season when the rear tire of Kawasaki rider Shinya Nakano exploded at around 200mph. Nakano hit the ground hard and tumbled to a stop far off the track without breaking any bones or suffering a concussion. One week later Nakano was back on track at Catalunya and placed seventh, his highest placement for his team yet that season.
Losail Circuit
Built near the capital of Qatar, Losail hosted its first race in October 2004. The 5.4 Km circuit is surrounded by artificial grass to prevent sand from the desert from blowing onto the track.
Istanbul Park Circuit
Designed by renowned circuit designer Herman Tilke, this track features dramatic elevation change and extremely fast and challenging corners. Located on the Asian side of the capital of Turkey, Istanbul Park Circuit opened in 2004 and held its first MotoGP race in 2005.
Shanghai Circuit
A relatively new track, and the only Grand Prix circuit in China, Shanghai Circuit hosted its first MotoGP race in 2005. The track is an architectural masterpiece and is one of the few tracks where bikes exceed 200mph.
Le Mans
Stepped in history, the Le Mans Bugatti Grand Prix circuit was originally built in 1965. Between 1995 and 2001 this French track was redesigned to provide greater safety to riders and spectators alike. Le Mans is a very technical track that is extremely demanding on both machines and riders.
Mugello
Located in the beautiful countryside of Tuscany, Italy, Mugello is one of the classic tracks of the Grand Prix championship. Built in 1973, Mugello hosted its first Grand Prix in 1976. Mugello has been on the MotoGP schedule every year since 1991. The track has a reputation for providing a safe yet challenging race venue.
Circuit de Catalunya
Only a short distance from Barcelona, Spain, the Circuit de Catalunya hosted its first MotoGP race in 1995. This exquisite track is revered as one of the best tracks on the schedule, and in 2001 it won the IRTA "Best Grand Prix" award.
Jerez
Located in southern Spain, Jerez is known for its fanatical fans, good weather, and beautiful scenery. The facility was originally built in 1986 and was modified in 2001 and 2005. Jerez can accommodate close to 250,000 spectators.
Circuito de la Comunitat Valenciana
Completed in 1999, Valencia is the newest Grand Prix circuit in Spain. The track has a unique layout that allows spectators to view the entire track from anywhere in the grandstands. From the riders' perspective, the track is small and technical, although it always produces high quality racing.
Assen
The longest serving track on the MotoGP calendar, Assen has held a round of the World Championship every year since 1949. Located in the Netherlands, this narrow, twisting track has been modified several times, most recently between the 2005 and 2006 seasons.
Donington Park
Originally built for motorcycle racing in 1931, Donington Park closed down during the Second World War. It was not until 1977 that the circuit reopened and it now regarded as one of the best tracks in Britain.
Sachsenring
Built in 1996, Sachsenring does double duty as a driver training center and transportation safety station. This German circuit hosted its first MotoGP event in 1998, and was redesigned for the 2001 season. Sachsenring is one of the slower, more technical tracks on the Grand Prix calendar.
Laguna Seca
The only MotoGP track in the United States, Laguna Seca is a highly technical track with massive elevation changes. The track is famous for the "Corkscrew" a section of track that drops steeply away as riders negotiate a tight left-right chicane.
Automotodrom Brno
Home to Grand Prix events since the 1930's, the city of Brno in the Czech Republic built a dedicated circuit in the 1980's. In 1987, Brno hosted the first FIM Czech Grand Prix. Characterized by fast, undulating corners and significant elevation change, Brno is considered to be a very difficult track.
Sepang Circuit
Located south of Malaysian city Kuala Lumpur, Sepang is one of the most visually impressive of the season. Featuring dynamic architecture and an on site shopping mall and golf course, Sepang has something for everyone. The track itself has a unique combination of high speed straights followed by slow to medium speed corners. The design of the circuit promotes frequent overtaking and makes for spectacular racing.
Phillip Island
Just off the coast of Australia, Phillip Island is a beautiful circuit with a breathtaking ocean view. One of the fastest, most fluid tracks that the riders face, this circuit is know for being very difficult if the wind coming off of the ocean is strong. Phillip Island has been on the MotoGP calendar since 1997.
Motegi
Built as a test facility by Honda, Motegi is the last remaining Japanese Grand Prix. As well as offering a world class motorcycle racing venue, Motegi offers spectators the Honda Collection hall, a renowned racing museum.
Estoril
Located on the coast of Portugal, Estoril hosted its first MotoGP race in 2000. The circuit has a combination of constant radius corners and heavy braking zones. Estoril is known for being tricky to ride, as the racing surface is fairly bumpy.
Satellite images of circuits
Google Earth makes it possible to view some of the MotoGP circuits from satellite images: